Looking for the perfect holiday gift for that special pet lover in your life? Look no further. We polled our fans, employees, and pet parent friends and family members to put together the ultimutt 2020 holiday pet gift guide.
Whether you're buying a gift for a pet parent friend or simply want to spoil your furball with exciting gifts this year, let these top-notch pet products serve as inspiration for your holiday shopping!
There are harnesses and collars and then there is this super comfy, lightweight dog harness, dirt-resistant collar, and poop bag carrier, perfectly matched to boot! Wild One's dog pet accessories are designed with function and fashion in mind so that your dog can strut the streets in style.
If your pet experiences a lot of stress and anxiety then this natural CBD tincture could help them feel calmer and more at ease. It's formulated specifically with pets in mind, made using natural ingredients like organic coconut MCT oil and full-spectrum hemp extract. Simply add a few drops to their food and let the zen begin!
Yup, you heard that right. Now you can enjoy a glass of your favorite wine alongside your pet. Pet Winery combines two of the greatest joys in life: wine and pets! Their pet-friendly beverages are made with natural ingredients like organic catnip, salmon oil, and vegetable juice. From Meowsling to Dog Pawgrignon, the petwinery.com has plenty of totally safe, non-alcoholic beverages that your dog or cat will love as much as you love that glass of Cabernet.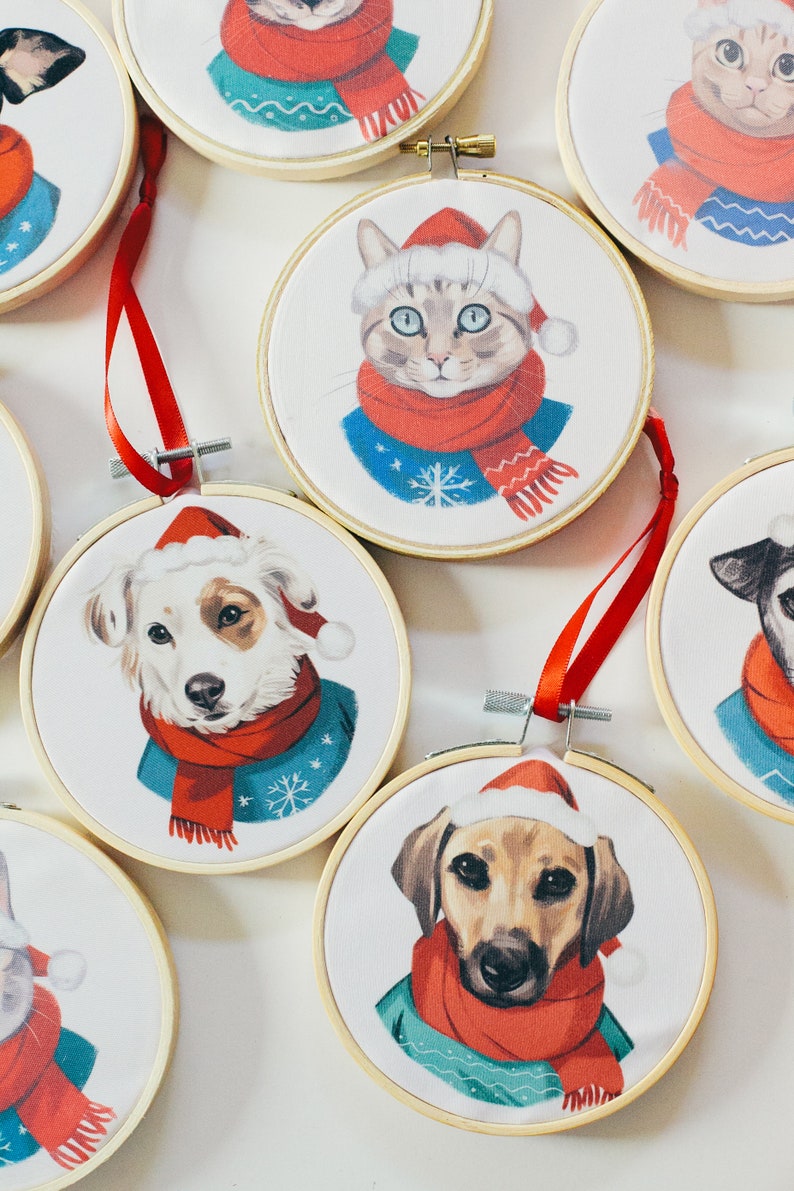 Gift that special pet lover in your life an ornament they'll want to hang all year long. These custom holiday illustrated pet ornaments resemble vintage embroidery hoops talk about the cat's meow! All you have to do is send in a picture of your pet's face and Red Cloud Studio will transform it into a beautiful ornament to hang for years to come.
One of the most durable dog chew toys out on the market! Nyla bones are a godsend for dog owners, as they can keep your puppers busy for hours on end. These tough bones help prevent your dog from destructive chewing and are made from long-lasting nylon with different textures to keep your canine interested. They even come in different flavors, like this irresistible, savory bacon bone. Did we mention it promotes dog dental health? It's a win-win!
This one is for all our dapper dogs out there! Other pups will be green with envy when they see this plaid flannel bow tie by The Foggy Dog, which can be matched with any one of their stylish bandanas. Suit up, pups!
Does your dog want to cuddle but can never seem to climb up to your California king on their own? Relieve their stress and disappointment by giving them some pet stairs to climb. Made in the USA with mattress grade cushioning and a machine-washable cover, these comfy stairs come in various patterns and colors to match the personality of your home. Snuggle city, here we come.
A tasteful, dainty gift for that special dog lover in your life! Sincerely Silver's breed-specific necklaces come in Sterling Silver, Rose Gold, and Gold with varying chain lengths to fit the recipient's size. These beautiful necklaces also make darling gifts for anyone who has recently lost a pet.
Now when you and your pup go on a walk, you can match perfectly. With this handmade bandana and face mask matching set, available in a variety of designs, no one at the dog park will make any mistake about who your adorable poodle belongs to.
Thunder, fireworks, sirens—these are all nightmare sounds for anyone who owns an anxious dog or cat. Thankfully, there's the ThunderShirt, a natural, vet-recommended vest that applies gentle pressure, giving your pet a sense of instant calm. Think of it like swaddling a baby in a blanket! Proven to be over 80% effective in reducing anxiety for fireworks, thunderstorms, separation anxiety, travel, vet visits, problem barking, and more, The ThunderShirt comes in a variety of colors and sizes, including options for anxious felines.
Hand-dyed and crafted in Found My Animal's New York studio, these gorgeous leashes are made to withstand even the toughest pulls. Each end comes fixed with stylish brass lockable carabiners, designed to allow additional safety for your pup. Plus, you can wear the leash multiple ways, including around the waist for a hands-free walk. A puptastic accessory!
Reward your pup, no matter where you are, with treats using this reusable adventure treat bag. Complete with a belt clip and drawstring, this durable tote lets you stash goodies away securely when you're out and about and gives you easy access to treats so that you can swiftly let your dog know when they've done a good job. We love that it comes in various colors and that you can fasten it to your belt for a hands-free experience.
If there's one cat product that gets the prize for being the best multipurpose cat product, it'd be this one. With its sleek design, comfy shape, and multi-functionality, this lounge will have your feline purring away in its curved cradle in one moment and entertaining their scratching instincts (which are perfectly natural!) the next.
Custom-Designed Pet I.D. Tag
Shameless plug: here at Dog Tag Art, we have thousands of pet I.D. tag designs to choose from, including the option to custom design your own tag! Choose from our artists' designs or simply upload your own, and we'll print it out for your dog or cat to wear proudly. You can also connect any of our tags to a Virtual Leash profile, keeping your pet's information up to date, anytime, anywhere -- for life.
Don't miss our Black Friday Sale from November 27-30, when you can buy a tag and get one free!
There's no doubt about it: there are hundreds of pawesome pet gifts out here! Have an idea for a holiday pet gift? Share it with us on social media! Use the hashtag #dogtagart in your post and we may reshare it with our fans.